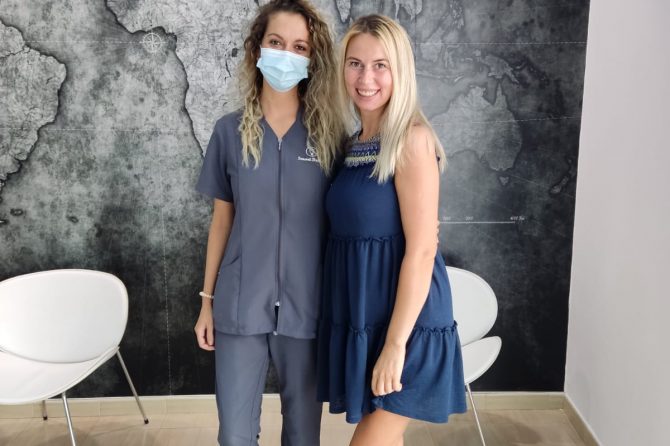 Gintare with Smart Dental Orthodontist Jennifer Gutiérrez Otero
Congratulations Gintare on your new smile!
Gintare is the successful and well established business owner of "Amigos Peludos Peluqueria Canina" in Benalmádena. "Amigos Peludos Peluqueria Canina" offers a range of grooming services with great results! Here are 5 benefits of Gintare professional pet grooming services:
Grooming maintains a healthy coat and skin
Regular nail trims not only help keep the nails short but helps reinforce healthy foot structure and posture, and reduces the risk of infection
Your pet will look and smell great
Regular visits may result in early detection of issues with ears, skin, teeth and more
Shiny, healthy and properly brushed coats will shed less
Find our more about "Amigos Peludos Peluqueria Canina":
Address: Calle San Juan, Av. Vicente Aleixandre, 1, local 4 esquina, 29631 Benalmádena, Málaga
Thank you Gintare for your trust in Smart Dental!
About Smart Dental
Smart Dental is a modern dental clinic that meets your highest expectations!

We offer a range of dental treatments to both local and international patients. We speak Spanish, English, Russian with on-demand support in French and Finnish.

Our professional team delivers key dental services such as Preventive Care, Implantology, Periodontics, Orthodontics, Facial Aesthetic Medicine.

Smart Dental is located in the beautiful and famous Avenida Blas Infante. Our clinic has easy street access and is close to various services and amenities such as hotels, bakeries, cafe and restaurants.
Leave a reply